Our spa treatments help you regain your inner balance
through a personalised approach, combining treatments with thermal waters,
nutrition guidance and sports activities.
Would you like to lose weight sustainably by adopting new eating habits and physical activities without denying yourself?
Kickstart a real lifestyle change with an 18-day course of spa slimming treatments.
Spa rheumatology treatments
---
Do you suffer pain from rheumatism or osteoarthritis?
Brides-Les-Bains thermal spa rheumatology treatments help reduce the pain in the best possible way.
Being overweight and rheumatism often go together.
The Dual Approach treats both conditions at the same time.
History of Brides-Les-Bains thermal spa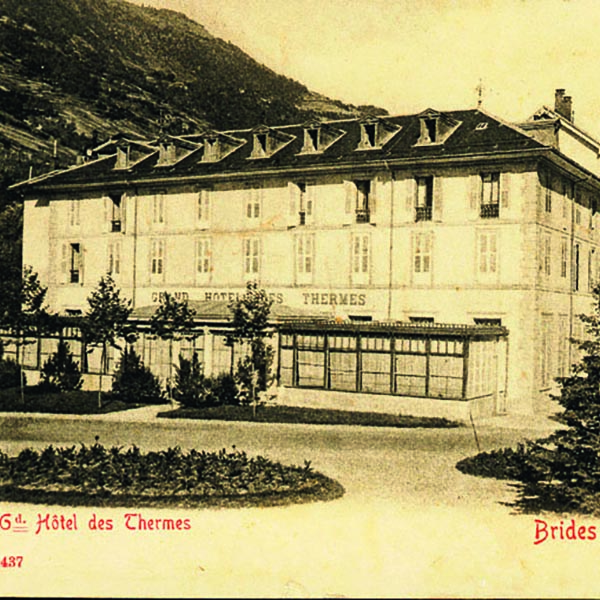 In the first half of the 17th century, Sieur Dominique Varat and Monseigneur de Challes created a small establishment offering numerous spa treatments every year. Sadly, it was destroyed when the river Doron burst its banks in 1653.

In 1819, having addressed the water problem, the operating company built 26 treatment rooms over the springs.
A new establishment offering spa treatments was built in 1838: 28 bathrooms and showers arranged in a semicircle around a central courtyard. It was at the current site of the Grand Hôtel des Thermes and has remained there for over 160 years.
For those coming with someone who is doing a course of treatments
---
Well-being
Thermische Vorteilen, Fachleuten und die friedliche und beruhigende Umgebung unserer Berge !  Ab 593€/Pers.


Healthy
Health is our most precious possession... For a few days, let's set aside the rest and focus on the essential.
Prices starting at 990€/pers.
Mountain
After a summer laying by the sea, come enjoy our beaches of pines, lulled by the motionless swell
of majestic peaks.
Prices starting at 585€/pers.