Take a snowshoeing break for your health!
Breathe in invigorating fresh air, leave your tracks in Méribel's forests, disappear into breath-taking panoramas, enjoy silence and tranquility at the heart of the mountains...
Brides-les-Bains Tourist Office invites you to surround yourself with serenity.
Méribel's French Ski School instructors and our other professional partners will adapt the route to suit your wishes and your ability, for hikers wishing to take in the scenery, as well as the more sports-focused.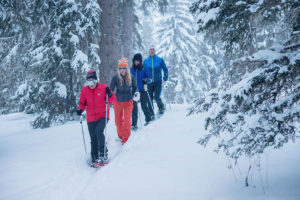 Experience and share simple snowshoeing moments in an exceptional setting by enriching your knowledge of the natural and human environments.
---
Nicolas Tavernier
Mountain guide
The health benefits of a snowshoe hike!
Considered to be a great activity for overall stamina, it helps to improve breathing, protects the heart and provides a full body workout.
Fighting fit
In the long-term, snowshoeing reduces the risk of cardiovascular illness, type 2 diabetes, hypertension and osteoporosis.
The perfect way to tone up
You can burn up to 500 calories an hour on a snowshoe hike! It's a great way to strengthen muscles and break down fatty deposits.
Free your mind and let go
Walking in the open air helps to eliminate stress and anxiety, soothing your mind whilst topping up on vitamin D from the sunshine.
After the exertion comes the reward, with healthy, balanced gourmet menus at the hotel
Where can you snowshoe?
Download the snowshoe guide
Tip + Don't hesitate to go on a guided snowshoe hike with a mountain professional who will adapt the route to suit your ability and help you progress whilst discovering their favourite locations!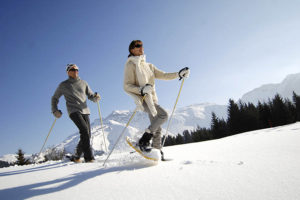 Raquette'Evasion
---
Brides-les-Bains
Ski, snowboard and off-piste school ESF Meribel
---
Méribel
Search results : 2 elements found