Particularly well known for skiing, this white paradise also has much to discover on a snowshoe walk or hike.

Used for hundreds of years as a way of getting around in snow-covered areas, snowshoes have now become a pleasant alternative to skis. Very popular with hiking fans who are keen to pursue their passion in winter, snowshoeing appeals increasingly to lovers of nature, wide-open spaces and peace and quiet.
Accessible to all, snowshoeing lets you get off the beaten track, whether you go with someone else, with your family or with friends.
Starting out from Brides-les-Bains and throughout Les 3 Vallées, many different marked circuits and maintained paths invite you to discover the ski area's hidden treasures and its wonderful nature reserves.

Experience and share simple snowshoeing moments in an exceptional setting by enriching your knowledge of the natural and human environments.
---
Nicolas Tavernier
Mountain guide
Snowshoe hikes: enjoyment and health benefits
---
A snowshoe hike in the Alps is the perfect way to explore this stunning snowy setting at your own pace, whilst admiring breath-taking views.

Whether it's for a day, a weekend, or on a more regular basis when you're on holiday, a snowshoe walk gives you the chance to discover unspoilt nature and unusual places, amidst forests and snow-capped summits.
It's a great way to be at one with nature and soak up its authentic charm, whilst getting a good dose of tranquility, which is strongly encouraged by the resort of Brides-les-Bains, a specialist in the areas of health and well-being.
Exercise in any shape or form!
A chance to get a breath of invigorating fresh air, snowshoe walks and hikes are a great source of health and well-being benefits.
The perfect activity for overall stamina, it helps to improve breathing and is excellent for the heart. In the long term, it can reduce the risk of cardiovascular illness, type 2 diabetes, hypertension and osteoporosis.
Helping to stimulate all muscle groups, you can burn up to 500 calories an hour on a snowshoe walk, which makes it a great sport to strengthen muscles and break down fatty deposits.
Whilst it's beneficial for the body, it's great for the mind too.
Walking in the open air helps to eliminate stress and anxiety, soothing your mind whilst topping up on vitamin D in the sunshine!
Find out about the routes available before you set off to ensure you get the most out of your snowshoe walk in the very best conditions.
This will allow you to see which one matches your level of technique, as well as your level of fitness and what you feel like doing. There are many different rating systems according to the difficulty level of each route.

One of the most common ones looks like this:
Level 1 : easy, perfect for beginners.
Level 2 : suitable for experienced snowshoers, may require use of mountaineering equipment (ice axe, crampons….).
Level 3 : high mountain route, requires excellent level of fitness, experience in walking with crampons and using an ice axe
This rating system goes as far as Alpine hike (RA), which is intended for those experienced in high mountain activities.
Some more detailed classification scales have up to five levels, taking into account the slope gradient and whether or not the route is marked out. It is advisable to follow a marked route because however tempting it is to go off into the heart of nature, there is always a chance you may find yourself on unstable snow.
Many routes are available from Brides-les-Bains and across Les 3 Vallées. Duration, altitude difference, departure and arrival points: all of this important information is available in the snowshoe trail guide and on the walking page.
What should you wear on your feet when snowshoeing?
---
Get prepared before you go snowshoeing. Check the snow and weather conditions.

In terms of equipment, you will need a warm breathable jacket with a hood, warm, stretchy trousers, gaiters, a woolly hat and/or cap, sunglasses with a high UV protection level (4 or 5), flexible gloves, sunblock, sun protect lip balm and a rucksack with at least one bottle of water and a snack, such as a cereal bar or dried fruit.
Opt for good quality, high-cut protective waterproof walking boots which will support the ankle, and a pair of walking poles.
These are also available to hire for a trial snowshoe session.
If you plan to snowshoe on a regular basis, it is definitely worth buying your own good quality equipment, which although more expensive at the outset, offers a more secure fit and is longer-lasting.
What's the average price of a snowshoe session?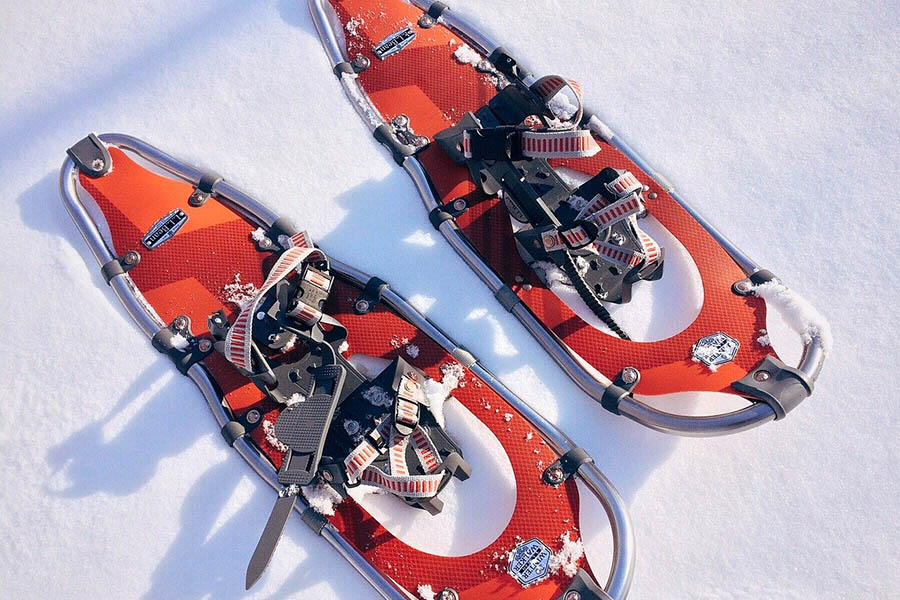 On average, it costs about 6 to 8 euros to rent a pair of snowshoes for a day.
Set off to discover magical places with our partner. Approximate price: 31€ for a 2-hour session.
Embark on your snowshoe session in total safety, progressing and discovering the Vanoise National Park's prettiest secret spots with our instructors! Contact our partners for more information.
Search results : 4 elements found