Pool Facilities for Relaxation and Fun
---
Brides-les-Bains has always been closely linked with water. Naturally, this aquatic focus has led to the spa resort having its own outdoor swimming pool and superb spa, one of the most renowned in France.
The pool complex in Courchevel, just down the road from Brides-les-Bains, offers fun water activities.
Swimming in the Open Air!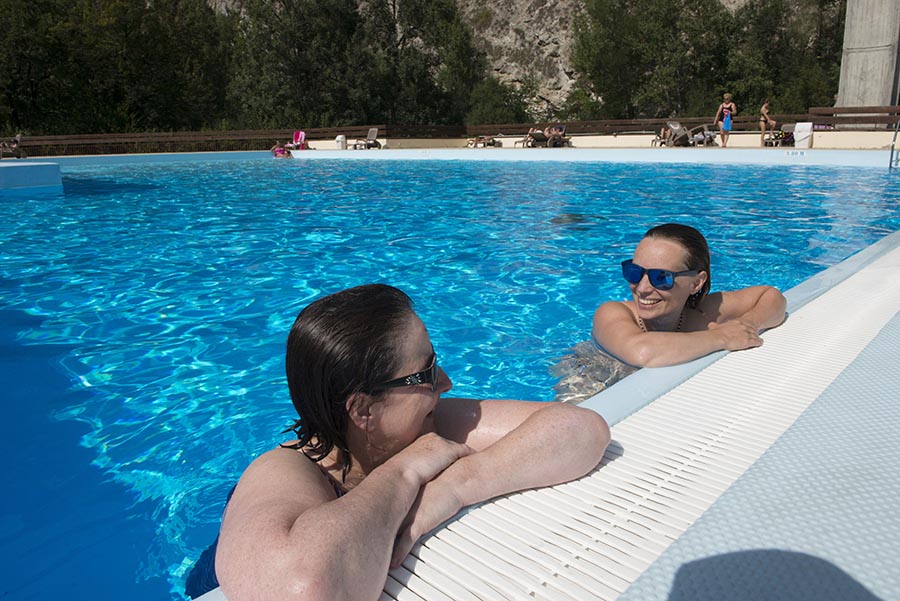 The public swimming pool in Brides-les-Bains, overlooking the Doron de Bozel river, gives you the chance to have a swim and bask in the sun (and work on your tan!) against a revitalising backdrop of mountains and nature.

It is managed by the neighbouring spa and has a supervised 24-metre outdoor swimming pool.

In the summer season, the swimming pool in Brides-les-Bains is open every day from 11am to 7pm.
Relaxation and well-being activities
---
Recharge your Batteries at the Brides-les-Bains Spa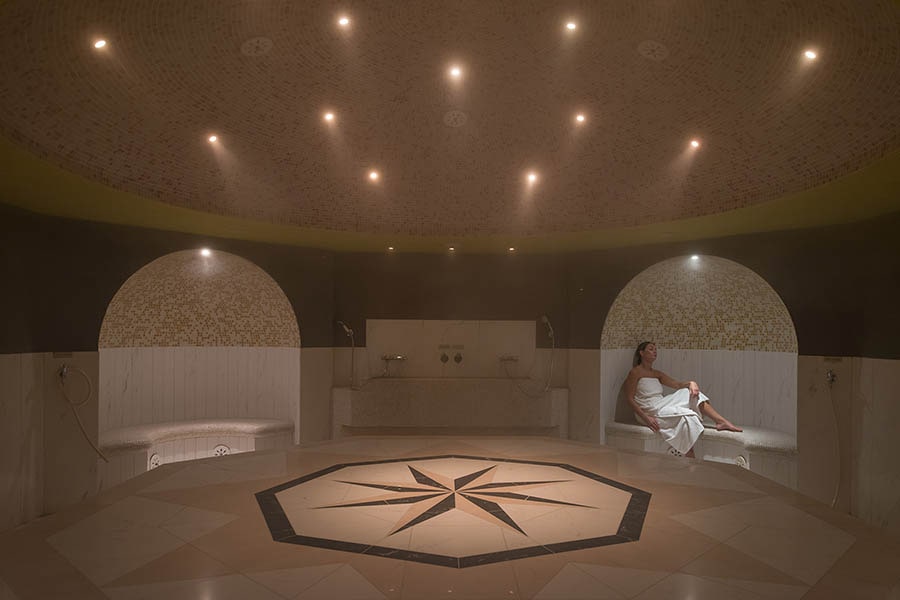 Sink into a little wellness bubble amidst the beautiful mountains of Savoie!

With modern facilities including a 600m2 pool complex and a 500m2 relaxation area, the Grand Spa Thermal in Brides-les-Bains is one of the largest spas in France.

With a hammam, a steam bath, a sauna, ice-cold showers, indoor and outdoor hot tubs, a lap pool, a fun pool and more, the Grand Spa Thermal in Brides-les-Bains really does have everything you need for a welcome relaxation break, a fitness transformation and a well-deserved rest!
A Swimming and Activity Complex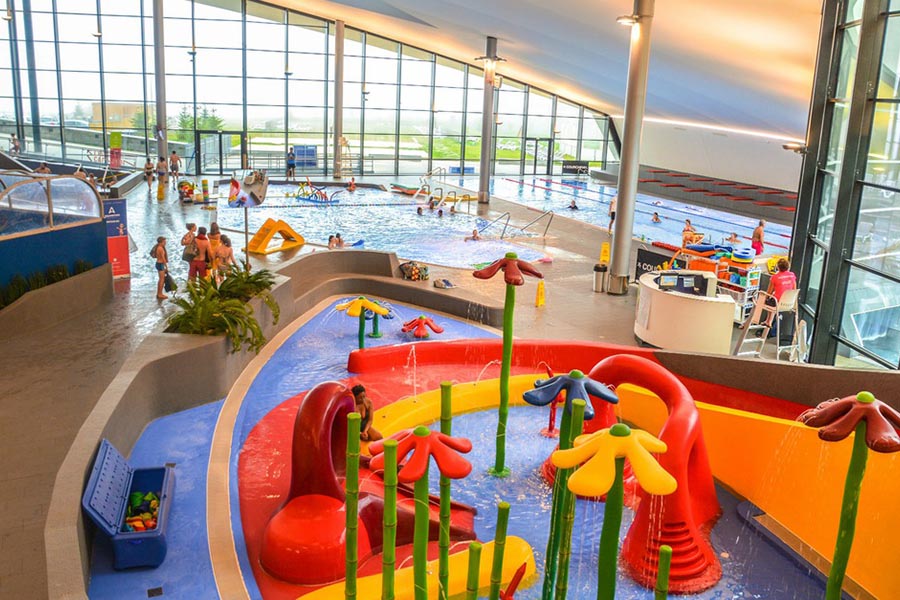 Less than 20 minutes' drive from Brides-les-Bains, Aquamotion Courchevel is a huge pool complex designed for you to have fun in complete safety and make unforgettable memories with all the family.

The largest mountain swimming complex in Europe has heated indoor and outdoor 'lagoons', large water slides, a fun pool, a torrent river, a baby pool and a paddling pool for the kids.

And it's not just about fun; there's also a swimming pool with lanes marked out for serious swimmers.
Go Fishing in One of France's Natural Parks
---
While you're in Brides-les-Bains, take the opportunity for some fishing, a peaceful and relaxing "nature sport".
Fishing in and Around Brides-les-Bains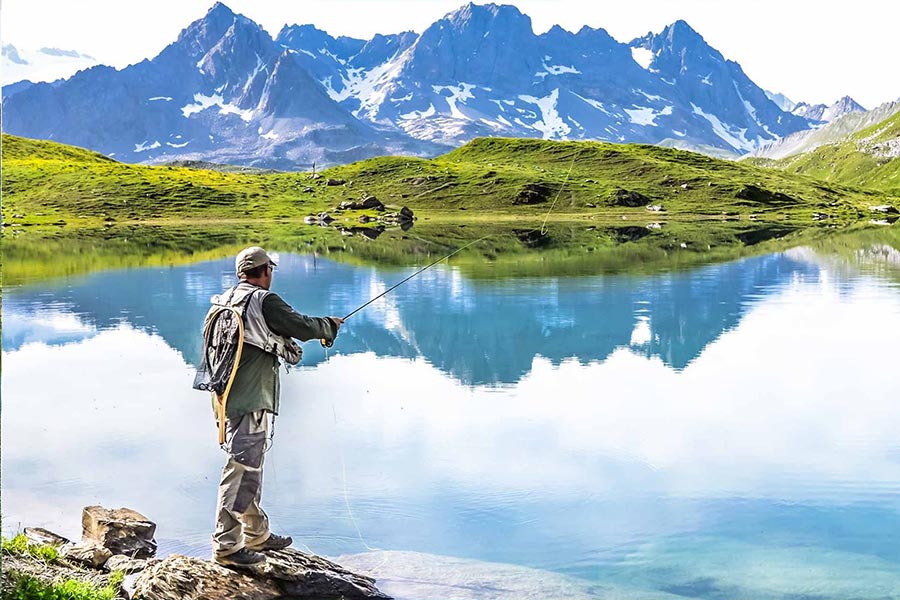 The 3 Vallées area has a splendid natural environment where you can fish in the clean, crystalline waters of its magnificent mountain lakes, rivers, streams and ponds.

Fishing in the mountains takes skill and tends to be challenging.
The Pêche de Savoie '1 fish' fishing spot on the Doron de Bozel below Brides-les-Bains gives you the chance to really immerse yourself in nature.

Not far away, in the Bonrieu de Bozel and the Doron de Champagny and its tributaries, fishers can find brown trout and brook trout.
And fishing spots can also be great places for scenic walks.
Fishing Rights in the Mountains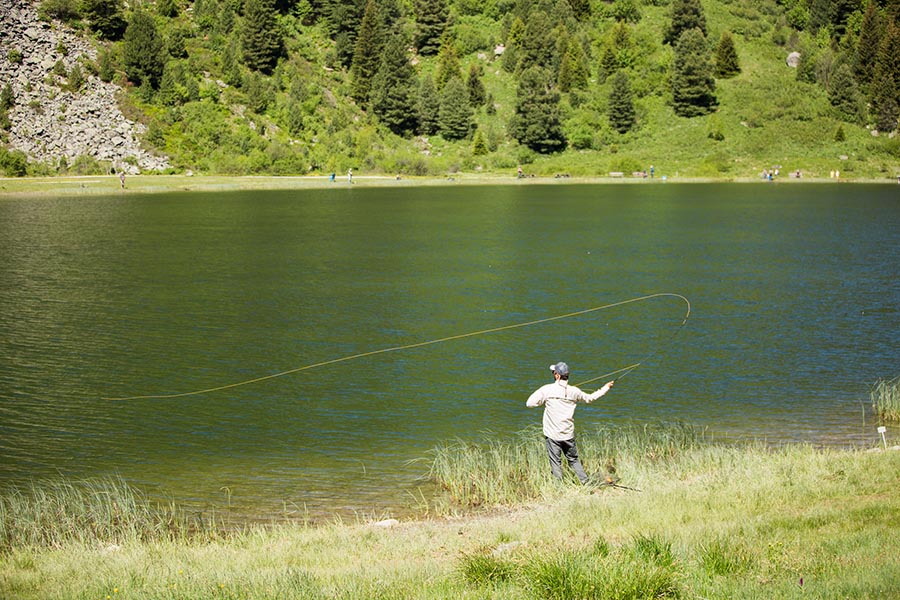 The rules on fishing in the mountains are the same as they are in the rest of France. You must have a fishing permit. This can be a one-day, one-week or one-year permit (Adult or Inter-Federation, Women's Taster, Child/Teenager, or Under 12s Taster).

Anglers can purchase fishing permits all year round in tourist offices as well as specialized shops like France Rurale in Moutiers or online cartedepeche.fr
See the list of agents in Savoie
There is a whole host of watersports available near Brides-les-Bains. With their combination of sport and total immersion in the natural environment, they are very popular.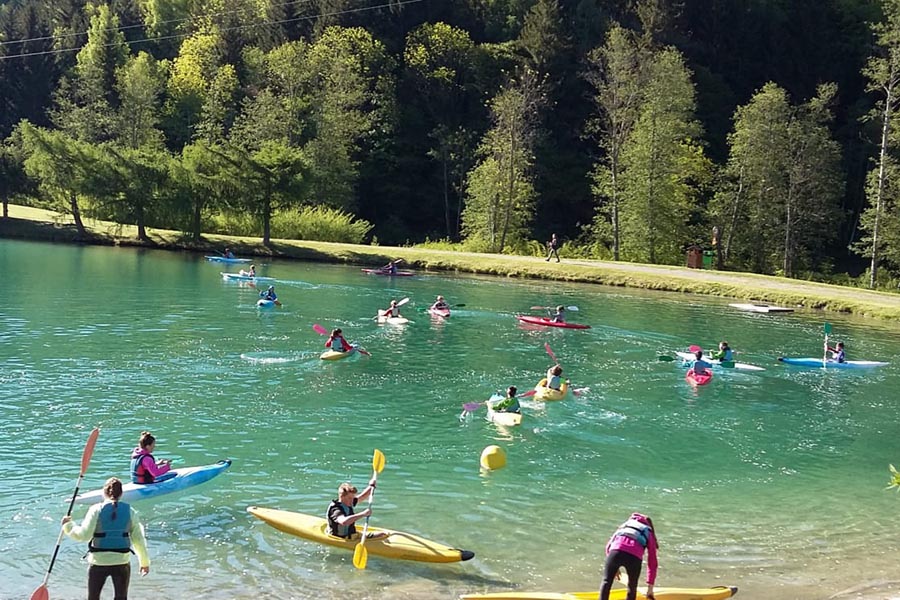 While kayaking and canoeing are similar in many ways, they essentially differ on two points: the position of the rower(s) and the paddle.

Navigating down a river in this kind of boat is a chance to let the current take you far from everyday life and to see places that sometimes can't be reached in other ways.

The white water version is more challenging, and beginners will need to take an introductory class beforehand.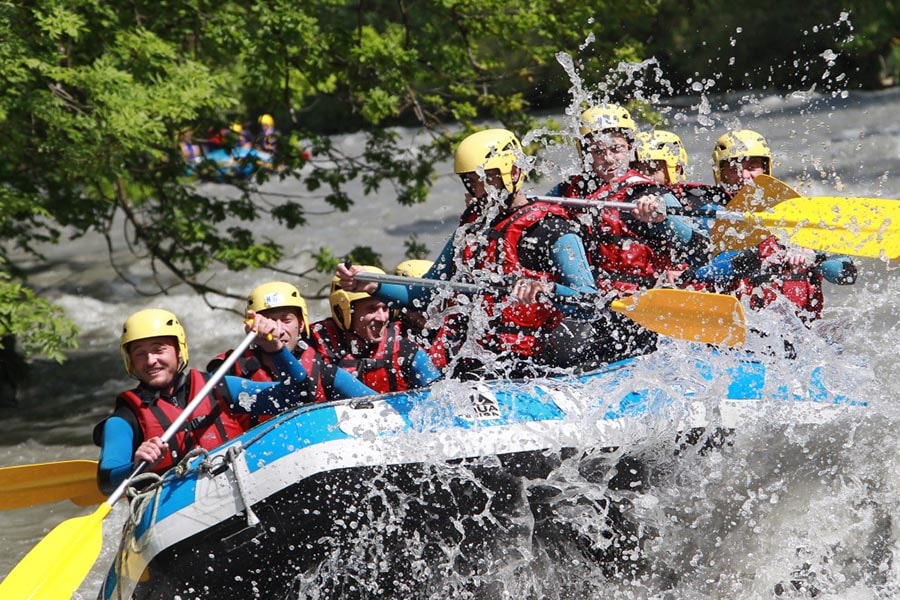 Originating in the US, white water rafting consists of travelling down stretches of river interspersed with rapids on board an inflatable raft.

The rafts can be steered by one person with an oar, or by a group using paddles. They are specially designed to remain stable even in rapids.

This activity is open to anyone who can swim but can be very challenging depending on the type of river.

In any case, this activity is a great opportunity for some adrenaline-filled fun!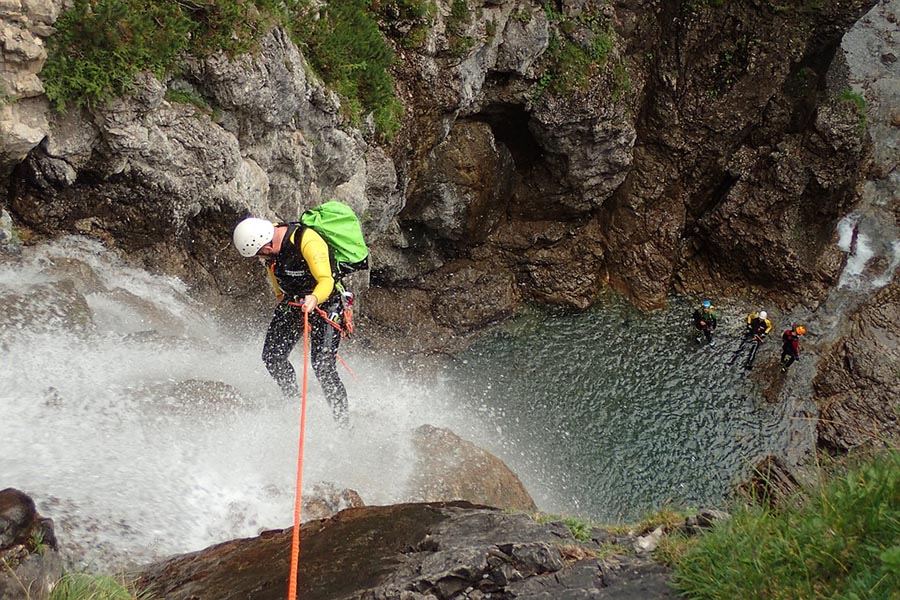 Great for thrill seekers, canyoning is a sport that consists of navigating down a mountain stream or river in a gorge by sliding down natural slides, abseiling, jumping, etc.

With this fun, refreshing (and intense!) activity, thrills are guaranteed, and you can do it less than an hour from Brides-les-Bains.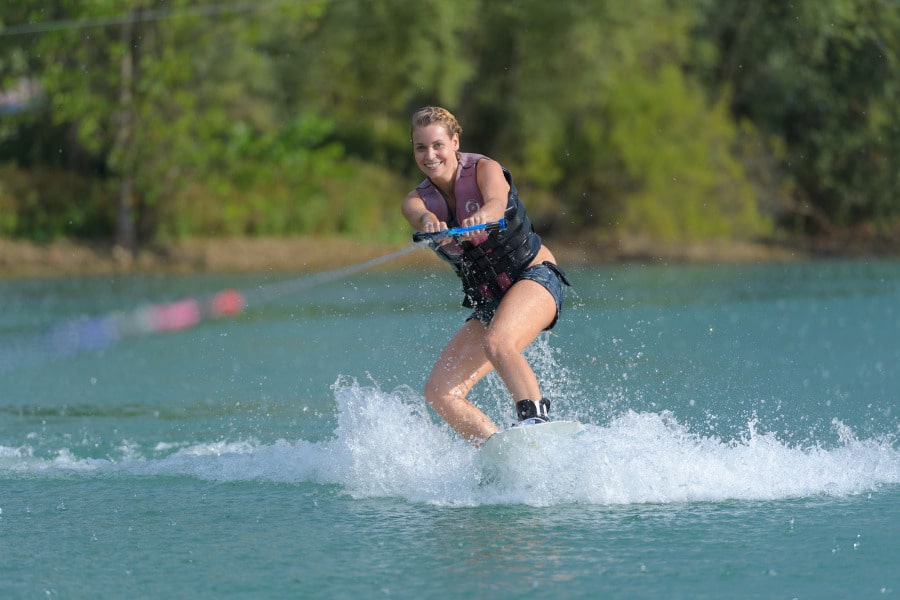 Waterskiing, wakeboarding, wakesurfing... The Savoie region has many spots where fans of watersports can take part in these activities, as well as areas where they can relax. Thrills, safety and a friendly atmosphere all in one!

Le Wam Park
Wam Park in Montailleur, less than 45 minutes from Brides-les-Bains, has something for all the family. Centred around two cable tows, this water park offers cable wakeboarding and waterskiing, inflatables, slides with diving boards, stand-up paddleboarding, scuba diving, a climbing wall over the water and more.

Ski Caraïbes
Club Ski Caraïbes is in a fantastic spot only fifty kilometres or so from Brides-les-Bains. The lake, with its approved slalom course, offers excellent conditions for waterskiing so that everyone can put on their best performance.
See all
Search results : 19 elements found
Service Providers
Moutiers fishing association
---
Fishing
Moûtiers
Association de Pêche de la Vallée des Belleville
---
Fishing
Les Belleville
H20 Sports
---
White-water
Brides-les-Bains