Go hiking in an organised group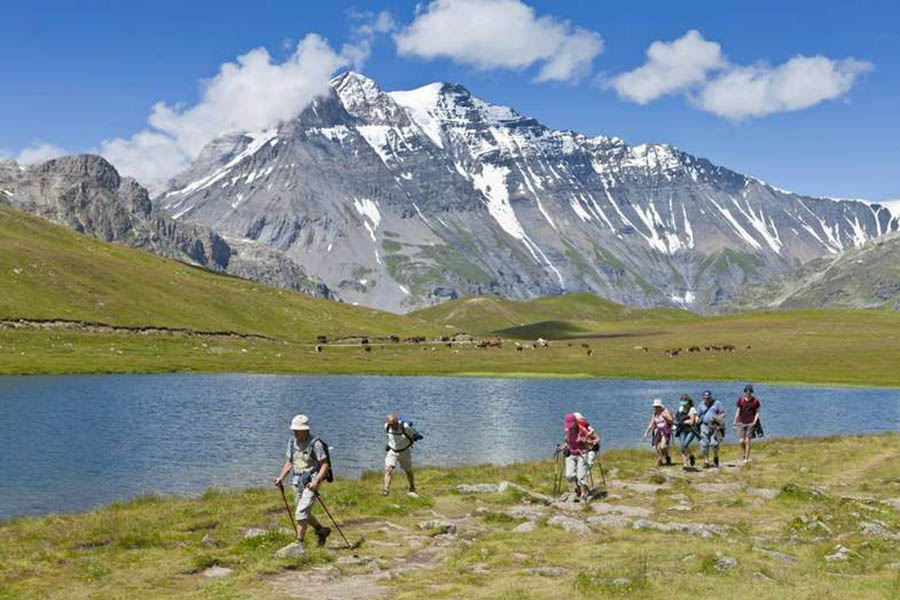 Hiking is beloved by hikers for the physical benefits, revitalisation and relaxation it brings.
As well as letting you discover magnificent natural sites, this oxygenating activity can also become a great shared experience when done as part of a group.
Going on a great walk in a group is a sociable way to get together and share a common interest. Individual hikers teaming up together also clears up any worries about getting lost or having an accident while on your own.
That goes double for having a guide take care of preparing the itinerary and logistical aspects of your hike.
Kept safe and motivated by teamwork, hikers can simply relax and enjoy their hiking experience.

To find out which local service providers are offering walks and hikes, visit the local tourist offices.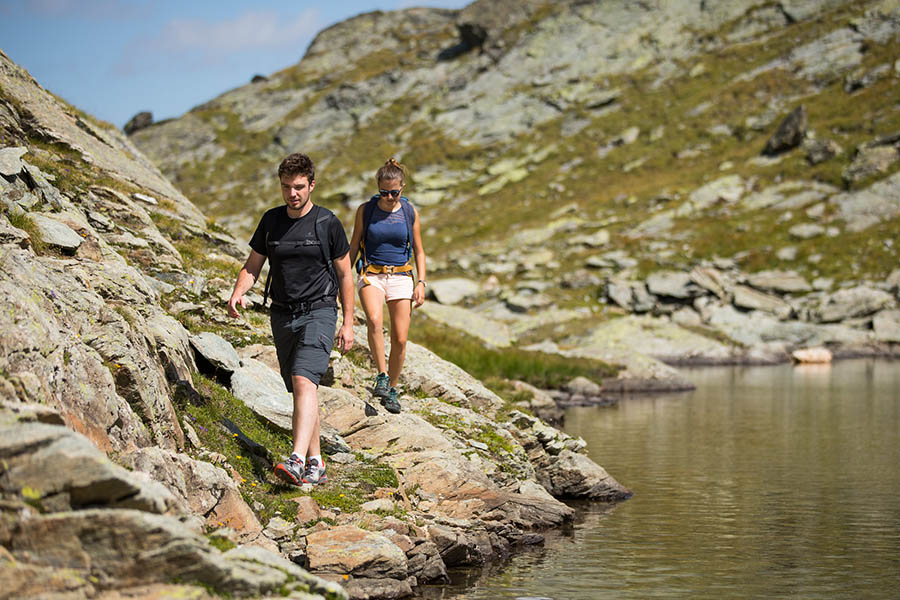 Hiking with friends is an excellent opportunity to have a great time together in a group.
To keep everybody having fun and limit mishaps out in nature, you need to be properly organised from the start.
Identify potentially difficult sections ahead of time so that you can properly prepare for them (rivers to cross, gorges, steep slopes, ridges, cols, ...).
From the many hiking routes available, it's also vital to choose one that corresponds to each hiker's ability and to set your pace by the slowest member of the group.
Around Brides-les-Bains and further away in the high mountains you'll find a number of places where the unspoilt natural environment provides the perfect setting for walks and hikes with friends: trails in the Vanoise Nature Park, Les 3 Vallées footpaths, hiking routes on the La Lauzière or Les Bauges mountain ranges etc...

A trail guide and hiking guide, as well as online forums and websites such as altituderando.com or visorando.com will help you find the perfect hikes to go on with your friends... Or family!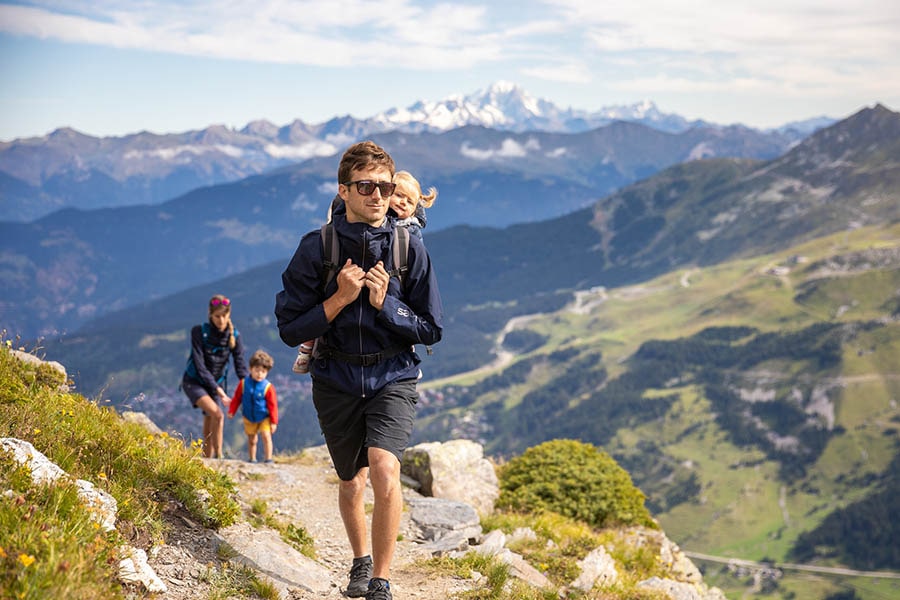 Follow the signposted routes for a little hike,
Have fun in the Alpine pastures,
Have a picnic in the heart of nature,
Cross mid-altitude mountain ranges on the back of a donkey,
Play with your reflection in the most beautiful lakes of the Vanoise Regional Nature Park,
Cool off in the waterfalls after a fantastic hike,
Forge unforgettable family memories between valleys and summits...

Hiking in Les 3 Vallées :
sublime landscapes between 600m and 3600m altitude, nature and wildlife of the Vanoise National Park
---
Denis LAISSUS
Mountain guide
The official Savoie Mont-Blanc website savoie-mont-blanc.com offers 8 "walks for everybody" in the family-friendly village of Pralognan-la-Vanoise (located around twenty kilometres from Brides-les-Bains), and 57 "family hikes" in the Tarentaise region.
Difficulty levels
Before you set off on a hike, it's important to check that your ability matches its difficulty level.
There are several things to consider in addition to the vertical climb and duration; from walks along signposted trails to mountain and even high-mountain hikes.
One of the best recognised systems rates each hike according to six categories, going from T1 "Easy hike" to T6 "Difficult Alpine hike", and including "Challenging mountain hike", etc…
To limit the issue of interpretation and avoid choosing unsuitable itineraries, the FFRandonnée and its partner IBP Index has developed a national system for categorising pedestrian hikes.
It uses 3 criteria ranked from 1 to 5: effort (physical difficulty), how technical it is (whether or not there are any major obstacles), and risk (how serious an injury might be in the event of a fall or slip).
These combined criteria add up to the real difficulty level of each hiking trail.
The FFRandonnée offers a category guide which can be downloaded on its website
Hiking itineraries from Brides-les-Bains
---
For a peaceful stroll along the trails, serenely soaking up the magnificent views, discovering mountain wildlife or a climb to the most stunning mountain backdrops…
From easy walks to major hikes, all you have to do is follow the signposts, from Brides-les-Bains or further afield:
See all
Search results : 190 elements found
If you're planning to go for a multi-day hike in the mountains, you'll need to plan where you'll be able to source refreshments and find overnight accommodation.

The Vanoise National Park offers a list of mountain refuges and bivouacs that can be reached within its grounds.

You are advised to book in advance and check that you comply with the bivouac camping regulations.
To widen your search, you can also look on the French Federation of Alpine and Mountain Clubs website.


Practical guide: The right way to prepare for a hike
---
Ahead of anything else, the right preparation for a hike requires one thing…  realism !
Before you can appreciate "THE 360° panorama", you need to be confident that you have the physical stamina and ability to adapt (tricky sections, bad weather, correct use of equipment etc…) to get there.
Mapping out a hiking itinerary is one of the key preparatory stages.
To do that, you'll need to take a few details into consideration: are you going to go in a loop or end up somewhere else? Where does the hike start from?
What are the vertical climbs and drops, distances, altitudes, where are the tricky sections, refreshment or, if necessary, accommodation options? etc…
At this stage, you can make use of a guidebook map, an OS map or an interactive online map. It's also important to decide if you're able to get your bearings on your own using a map and compass, or if it's a better idea for you to take GR trails and signposted routes
A good hike also requires proper anticipation of weather conditions. You're better off not getting caught in a storm or being forced to make your way across an area that's suddenly become difficult to cross due to bad weather!

We obviously recommend that you bring practical, quality hiking

equipment

:

A good pair of comfortable shoes suitable for the terrain,
Thin socks (preferably cotton or wool mixed with polyester) to fit snugly around the foot and release perspiration,
Three layers of

breathable, waterproof clothing

: an underlayer, a thermal layer and a protective layer. On your lower half, wear shorts or trousers you feel comfortable in,
A good

rucksack

: a 10 – 15 litre rucksack is fine for a simple walk, a 25 – 30 litre rucksack for a full-day hike etc…,

Walking poles

, preferably with rubber grips,
A hiking GPS, as well as a map and a

compass

(useful if the network coverage drops out!),
A

whistle

so you can be found if required,
An Opinel©-style knife,
A torch,
A first aid kit including a survival blanket, plasters, disinfectant, painkillers, a pair of tweezers (for removing splinters or ticks), an Aspivenin pump for insect bites and arnica cream.
Depending on weather conditions, a

hat (or beanie)

, sunglasses, sun cream,

lip balm

.
        —————————————————–
Useful tips:
We recommend that you pack heavier objects nearer your back to spread the load,
Keep your orientation equipment and something to protect you from the rain on hand at all times.
—————————————————–

*The amounts of food and water depend on the hiking itinerary and weather conditions.
For a full-day hike, the perfect meal includes energy-providing carbohydrates (wholemeal bread, rice or lentil salad…), protein (meat, hard-boiled egg, cheese…) and raw vegetables.
Dried fruit and cereal bars are useful to bring along as snacks (chocolate is best avoided in summer!).

We hope you have a wonderful time hiking on the trails in and around Brides-les-Bains…