A playful activity and source of multiple advantages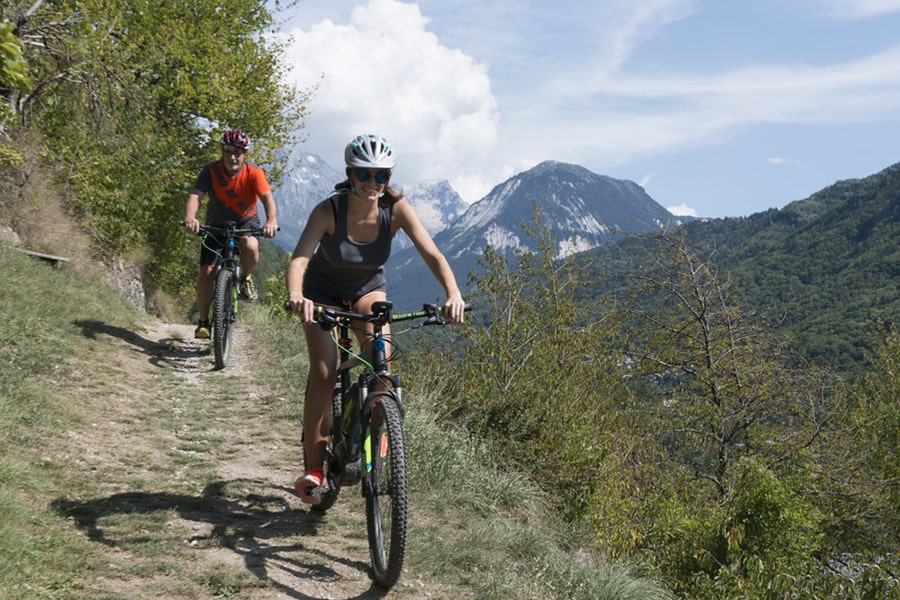 In Brides-les-Bains, health and well-being are an integral part of its DNA. Mountain biking although associated with leisure and pleasure, it's also a beneficial activity for our health.
Mountain biking is a well-rounded sport that allows you to maintain and develop your physical energy. It contributes to the development of legs, arms, back, shoulders, pectorals and even the heart!
Riding through the mountains and valleys, pedalling up and down the slopes is an excellent way to increase your cardio endurance.
This endurance training is complemented by the improvement in breathing management.
Mountain biking can also help you lose weight thanks to the calories burned. It varies according to your size, age, gender, energy level, etc. but it is estimated to be around 450 calories per hour on average.

Mountain biking in the mountains on a range of trails also leads to improved balance and agility.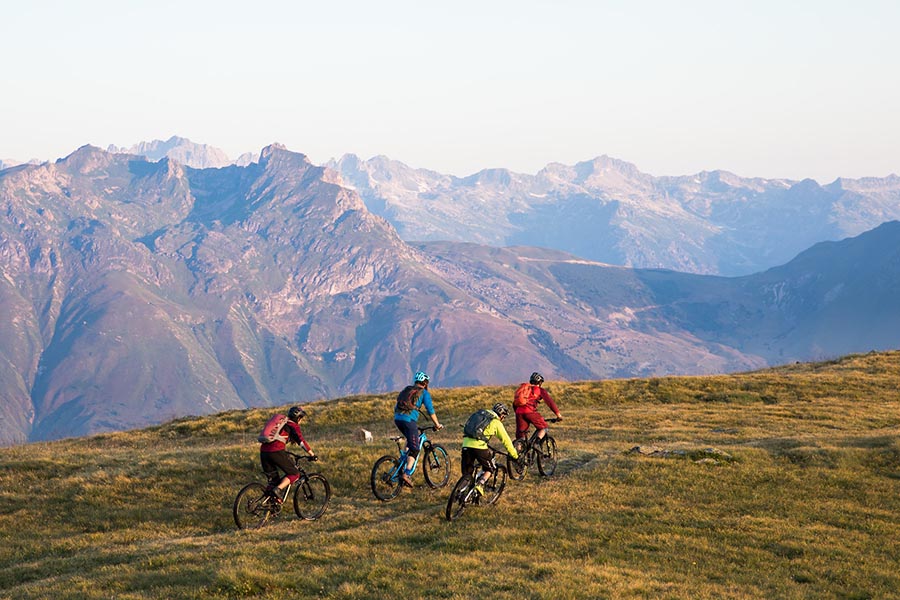 While it remains a sport, mountain biking is still accessible to everyone. Whatever your age or level, you can go at your own pace whilst adjusting to your wants and current level of fitness.
The electric mountain bike offers an alternative to those who prefer a more moderate physical activity (or to get back into sport!).

From children's mountain bikes to the more technical downhill mountain bikes out of different available models, these two-wheeled bikes with their many characteristics can be enjoyed both individually and collectively.

Sitting alone in the saddle gives you more freedom in the choice of routes, speed and objectives.
Riding in a group creates a dynamic that maintains motivation, encourages the rider to surpass himself and to go further during more challenging routes.

These rides with friends or these opportunities to have fun with the family allow for pleasant moments of relaxation.
Brides-les-Bains, a unique location for cycling
---
Nestled in the heart of the Savoie mountains, Brides-les-Bains is both a spa and a winter sports resort. At the gates of the 3 Vallées domain, the village Mountain bike and bicycle routes criss-cross the region and allow you to discover it in a pleasant and safe way.

From peaks to valleys, alpine pastures to forests, walk, enduro or freeride, beginner or expert, a mountain bike playground under the sign of variety
---
Jean-Noël USANNAZ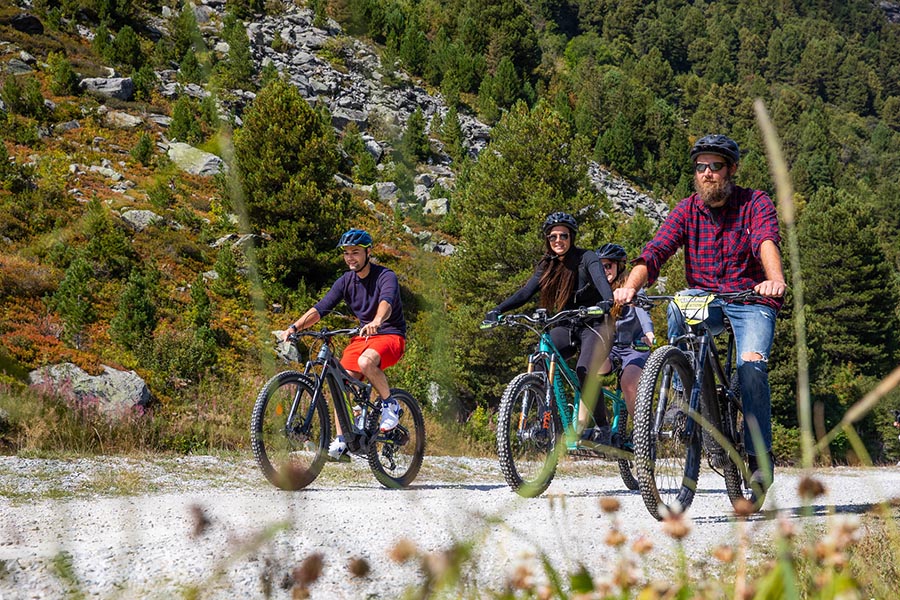 Surrounding Brides-les-Bains, a variety of paths and trails are available for relaxed mountain biking.

There are multiple reasons for cycling in these magnificent places: to explore nature, to discover the fauna and flora, to get some fresh air, to relax, to exercise, etc.
Accessible to all, cross-country mountain biking is practised in the middle of the countryside on a circuit course that generally offers superb viewpoints.

Mountain biking and electrically-assisted bicycles (EABs) are growing in popularity and can now be used in specific zones allowing you to explore more with less physical effort.

Whether you are a beginner or more of an experienced amateur, everyone will be able to appreciate these different ways of hiking the mountains and in total security.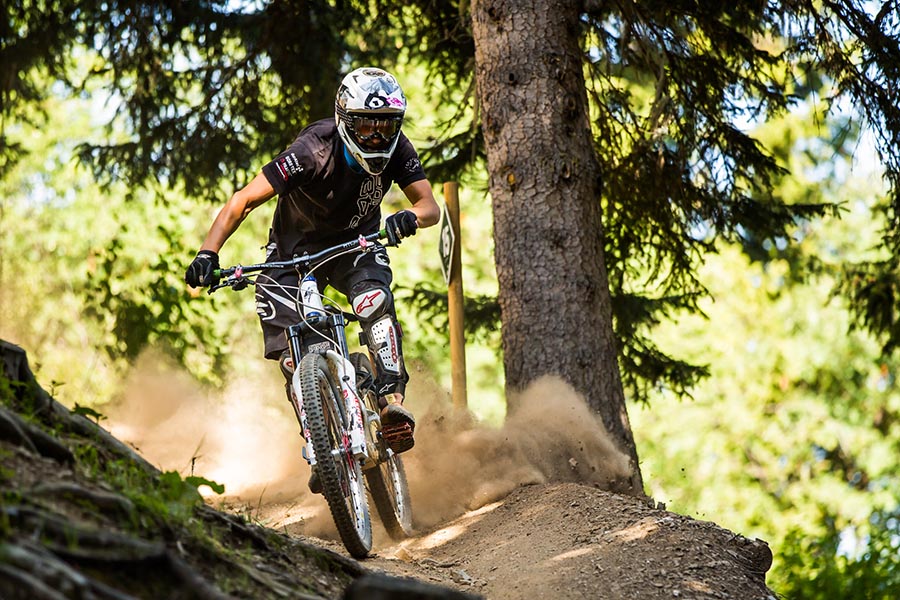 If you are keen on physical exercise, setting yourself challenges or even a thrill-seeking experiences, you will find the surroundings of Brides-les-Bains a magnificent playing ground. The mountains and the valley are ideal for sporty ascents and exhilarating descents on mountain bikes (for the more experienced and hardcore riders!).

Various itineraries and tours exist to suit all tastes and desires.
Downhill mountain biking (also known as DH, Down Hill in short) involves riding down specially designed and constructed mountain bike trails. Though impressive, this activity remains accessible to all and in particular with the guidance of professional instructors.

The Enduro uses existing trails, shared with pedestrians. This activity is aimed at those with an experienced level due to the particular technical and physical requirements.

These different activites are facilitated by the possibility to use the ski lefts to access the different trails.
Savoie: the mountain bike spots not to be missed near Brides-les-Bains!
---

* The Méribel Valley Bikepark: a must!
The Méribel Valley Bikepark has been approved by the French Cycling Federation since 1998 and is easily accessible from Brides-les-Bains by ski lifts or by road.
From beginners to the more experienced, it is open to all and offers 11 downhill trails, 9 Enduro routes, 3 cross-country routes and 6 specially dedicated to mountain bikes.
https://french-alps.meribel.net/mtb-meribel-bikepark/mtb-meribel-bikepark/
* The 3 Vallées mountain bike area
Renowned in winter for its skiing, the 3 Valleys area can also be enjoyed by bike the rest of the year. Mountain bike routes link the resorts of Mérible, La Tania, Courchevel (including the mythical Col de la Loze), Les Ménuires, and Val-Thorens. 38 circuits can also be completely done by bike with access to certain ski lifts.
Maps of the mountain bike routes are available at the various Tourist Offices as well as the ski lift ticket offices.
            * With more than 10 signposted downhill trails, the Les Menuires / Saint Martin resorts offer mountain biking for all levels and all tastes. Just a stone's throw away from Brides-les-Bains, these slopes open up views of renowned peaks such as Mont de la Chambre (2850m), Pointe de la Masse (2804m), and La Tougnète (2430m).
Ecological highlights from Brides-les-Bains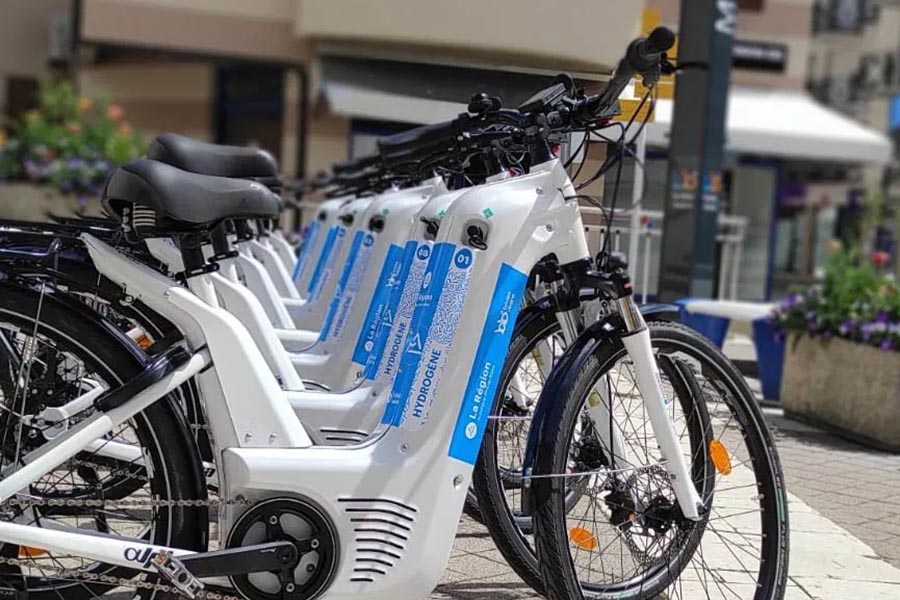 Hoping to offer a wide range of services to make cycling accessible to everyone, Brides-les-Bains also aims to be committed to a sustainable development approach. The community is therefore equipped with a set of 10 electrically assisted bicycles - equipped with hydrogen fuel cells - and an autonomous hydrogen production station. Financed by the Auvergne Rhône Alpes region, this initiative allows visitors and others to carry one with a sportive activity in an eco-friendly manner.

The Brides-les-Bains Tourist Office can provide you with all the practical information on the subject as well as a list of walking trails that can be done nearby.
Mountain biking holiday in Brides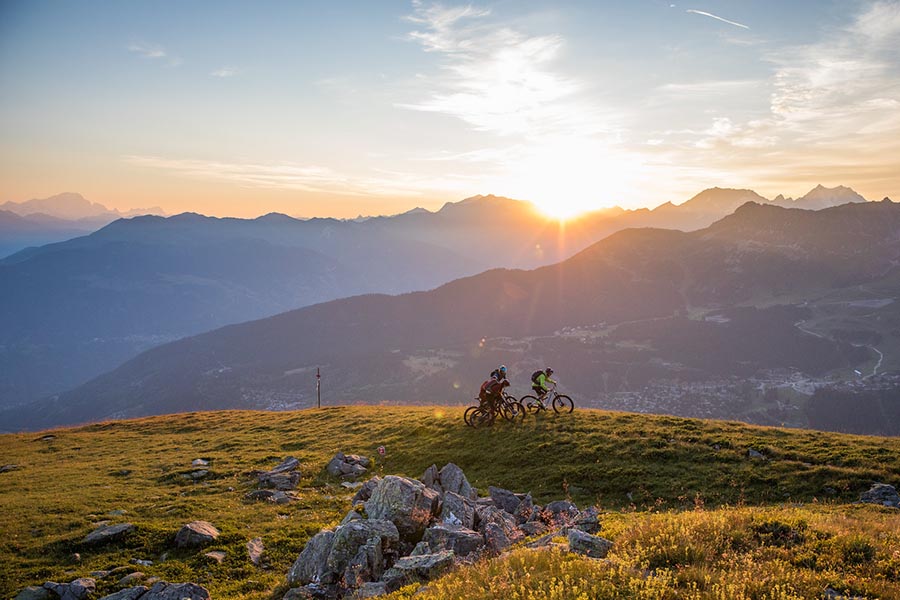 If you want to go mountain biking for a weekend with the family, a weekend with friends, or a longer stay, Brides-les-Bains is the place to be. Offering a wide variety of accommodation and a wide range of walks and routes nearby, the village is definitely worth a visit.
A mountain biking holiday in Brides-les-Bains is guaranteed to leave you with unforgettable moments.
Eco-friendly highlights: Come to Brides-les-Bains with your bike by train and ride straight from your base camp. 
Check-list for a successful mountain bike ride!
* Select your route whilst taking into account the difficulty level, your own physical condition and the weather conditions.
* Carefully choose a mountain bike adapted to your body and an appropriate outfit. And don't forget your helmet!
* Warm up beforehand and calmly set your pace
* Stay hydrated and eat if necessary
* Learn how to repair a flat tire!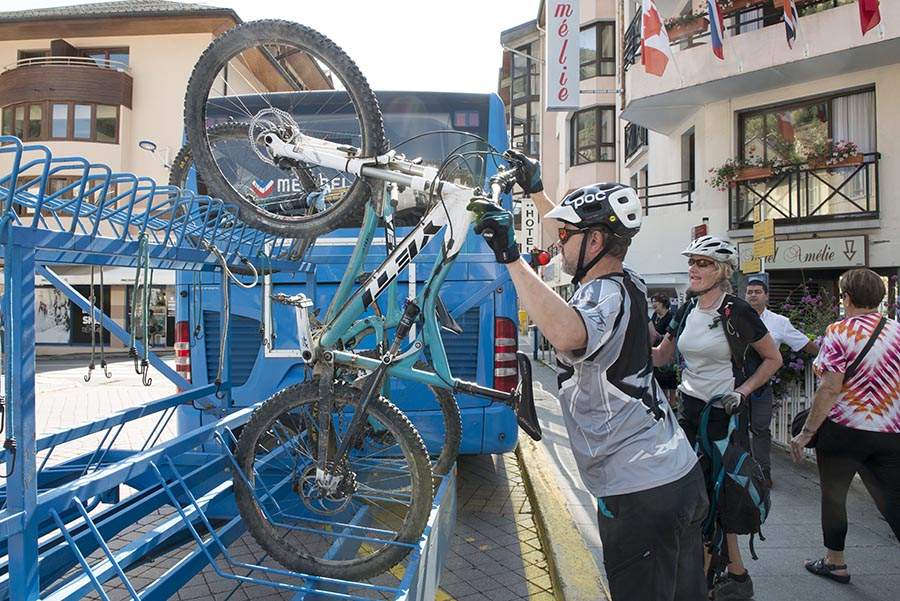 LIFT OPENINGS FROM SATURDAY 8 JULY TO FRIDAY 1 SEPTEMBER 2023

|   | Opening hours | Monday | Tuesday | Wednesday | Thursday | Friday | Saturday | Sunday |
| --- | --- | --- | --- | --- | --- | --- | --- | --- |
| TC OLYMPE 1 | 9:30am - 4:30pm | C | C | C | C | C | C | O |
| TC OLYMPE 2  |   | C | C | C | C | C | C | C |
| TC TOUGNETE | 9:30am - 4:30pm | O | O | O | O | O | O | O |
| TSD TOUGNETE | 9:30am - 4:30pm | O | O | O | O | O | O | O |
PRICES

The ascent to Les Allues (TC1) is €8.5 for adults / €6.5 for children on section 1 (if TC2 and 3 open, the price is €11).
See all
Search results : 26 elements found
Bike Park
Domaine VTT 3 Vallées
---
Méribel
Moutain Biking - Méribel Bikepark
---
Méribel
Les Menuires-Saint Martin de Belleville été
---
Les Menuires